A History of the
Alhambra Theater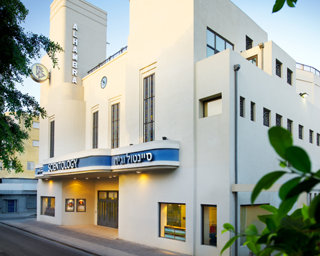 The Alhambra Theater was originally constructed in 1937 as a cinema and cultural center by renowned architect Ilyas Murr. A registered historic landmark, it stands as an architectural masterwork on Jerusalem Boulevard. Its distinctive Art Deco style influenced many subsequent buildings in the vicinity.
The Alhambra was internationally renowned as the stage for leading Arab performers of the day. In the postwar years, it served as host to a wide variety of events, from musical performances to political rallies and even boxing matches. When Jaffa and Tel Aviv united in 1950, the building drew Arab and Israeli audiences from across the unified city.
In the 1960s, the Alhambra served another generation under the banner of the Giora Godik Theater. As the "Broadway" of Tel Aviv-Jaffa, it was the venue for the most successful musicals of the era, including Fiddler on the Roof and Kazablan.
By the early 1980s, the building had been transformed into a commercial center—a role it served for the next two decades.
After acquiring the Alhambra, the Scientology Center meticulously preserved and restored this Jaffa icon. An historical architect, working with archival photographs, recovered details lost or damaged over the years. Features were returned to their original glory, from the decorative color-block windows to the Auditorium's magnificently ringed oval ceiling.
When the Alhambra was dedicated as the new home of the Center of Scientology of Israel in 2012, it signaled the return of a cultural landmark and community hub for the decades ahead.